Every day patients enter veterinary clinics stressed, fearful or anxious. Veterinary clinics are noticing a reduction in patient visits and frequency with clients not bringing their pets into clinic due to a variety of reasons including the challenge and stress of getting their pet to the vet in the first place, concerns over how their pet will behave and how their pet will be handled, in response to this, during the visit.
Our aim is to improve patient welfare and treatment outcomes by providing veterinary professionals with the knowledge, skills and tools to reduce stress in the clinical environment. Understanding patient communication and behaviour reduces the need for strong physical restraint. This reduction in patient stress increases accurate diagnostics and provides timely and effective treatments, not only increasing patient wellbeing but also reducing time and financial stress for clients.
Stress Free Pets is an animal handling and behaviour education program, certification and community for Veterinary and Pet professionals. We aim to enrich the lives of our patients through delivering world class education, tools and networks.
Focusing on best practice our education program is developed in collaboration with Veterinary Behaviour Specialist and internationally recognised experts.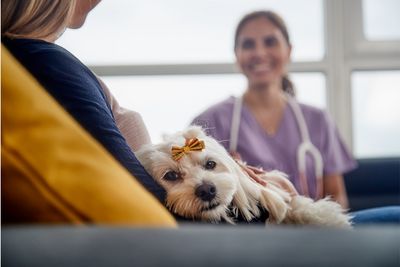 BECOME A STRESS FREE CLINIC
Clinic accreditation demonstrates the clinic teams commitment to providing the highest standard of patient care by actively reducing stress in the clinical environment.

Application for clinic accreditation starts when a minimum of 50%, but at least three, of the team has achieved individual certification. Accredited clinics work as a team to implement the Stress Free Pets program across all areas of the practice including patient treatment and care, client education and the clinic environment. Stress Free approaches are also embedded in aspects of team culture, training and leadership.
Apply now
Read more
FIND YOUR NEAREST ACCREDITED CLINIC
Clinic accreditation is valid for 12 months when a re-accreditation will be required. Clinic re-accreditation requires a minimum of 50% of the team remain individually certified and Stress Free approaches are maintained in the clinic.